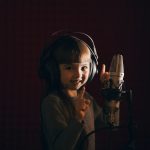 My nephew told me that'd he'd also like to get into voice acting so I did some research to see what it takes. I was also on the look-out for gear, tips and tricks specific to kid voice actors. Here's what I found.
To get started in voice acting as a kid, you'll need some training, at least one demo, somewhere to record, some gear and possibly an agent. It's possible for kids to get started in voice acting from home but it will be easier to go into a studio, at least in the early stages.
In this article, we'll go over what it takes to get started in voice acting as a kid. I've written this for kids but, really, you'll need your mom or dad to help with a bunch of this stuff.
Step 1: Get a coach or go for classes
Voice acting is still acting so it's important to actually have some acting chops. Getting a coach is going to be the easiest way to "fill in any gaps" that your might have as an actor. If you can't find or afford a coach, going for acting classes will be a huge help. A summer drama camp is also a great option.
It's also important to remember that directors expect to work with professionals. That's why it can be important for kids to get coaching or to go to classes. That way, you can learn what's expected of you and how to act in different situations.
A coach can help you learn how to do auditions, how to record professionally, how to improve your voice, good microphone technique (and a range of other things).
But if you can't get a voice acting coach, at least go for some acting classes. They'll be a huge help.
And it's important to get kid-focused help. Kids have different needs than adults and your voice, as a child, is different than an adult's. (Plus the wrong coach can destroy your dreams by being too harsh or not supporting you as you learn this new skill.)
Once you've gotten some acting chops or, at the very least, have practised some voice acting at home, it's time to record your demo.
Step 2: Record a demo
A demo is a recording of you performing some kind of monologue so that a director can hear what you can do.
To record a demo, you'll need:
A good microphone
Somewhere quiet to record yourself
Some audio-editing software
What microphone? You want to avoid the cheap microphone on your computer or phone. Those won't record your voice very well.
A good microphone can cost in the thousands of dollars. That's a lot to spend on voice acting before you know if you'll stick with it. So to get started, you could get a microphone that's good but not great. The Samson Meteor USB microphone offers good (but not great) quality at a pretty affordable price. It's around $50.
Where should I record? Sound waves bounce off hard surfaces and walls. And studios cost a fortune to set up properly. So a lot of beginning voice actors start out recording in closets full of clothes. The clothes help absorb the sounds before they can bounce off the walls. This lets your microphone only record your voice.
What software do I need? A lot of voice actors use Audacity to begin with. It's free software that you can use to record yourself and edit your recording to cut out mistakes and background noise. I've used it before and it's super simple. Just check out the documentation and you should be on your feet in no time.
Once you've got a demo recorded, you'll need to find some work.
Step 3: Find some work
Most kids who want to get into voice acting want to do cartoons. Cartoons can be hard to get into at the start, especially big-name cartoons. So it might be easier to gain experience by doing some voice acting work from home.
Here's a page on UpWork listing freelance jobs for kids. Most of it is for voice work. (UpWork is a marketplace for all kinds of freelance work.)
At the time that I wrote this article, there were some pretty cool jobs listed for kid voice actors. Have a look:
Voice Actors needed for Museum Augmented Reality Application. A software development company is building an Augmented Reality app for a non-profit children's museum.
Animation Series: This author is trying to convert their books to an animation series. The main character is a little girl.
Animated Shows & Audio Dramas: For this gig, they're looking for someone willing to do voiceover work for animated shows or audio dramas.
Children's learning materials: Here they're looking for four (4) kids to record their voice for learning materials for kids.
And the pay for these isn't bad. Some of those gigs are flat-rated between $1,000 and $3,000 each. While others have a decent hourly rate of between $21 an hour to $50 an hour.
Marketplaces like UpWork and Fiverr are a great place to start your career as a child voice actor because you can do the work from home.
Why start from home? Voice acting sounds like a fun, easy job. But, in reality, it takes a lot of work, a lot of patience and a lot of practise.
Starting out by doing some freelance jobs online, while recording at home, gives you a chance to see if you've got what it takes to do this long-term. It lets you get some experience while seeing if voice acting is right for you.
Step 4: Record your work
If you have a demo, then you already know how to do this step but here are some extra tips and tricks to help you "nail it" the first time.
Pick a quiet time to record.
Wear good headphones so you can hear if any unwanted noises are getting into the recording. You might want your mom or dad doing this because they might pick up problems easier than you in the beginning.
Do multiple takes and versions. It' not likely that you'll record everything perfectly the first time. Your client (or director) will want to hear a few different styles so they can pick the one that's best for the work. Try doing a "happier" sounding take. Try doing a "calmer" sounding take. Try putting emphasis on different words.
Step 5: Edit your work
This is probably something you'll ask your mom or dad to do but, basically, you need to edit out any mistakes in the recording. And if you did multiple versions, you'll want to cut the recording into multiple files — one for each version.
If you got a bit of background noise in the recording, you'll want to reduce that. Most audio-editing programs have a function that lets you select a "quiet" part of the track and then use that to apply a "noise reduction" filter to the rest of the track based on that. It's pretty easy.
After editing your recording, play it back a few times and make sure the edits sound natural. You don't want to edit your track in a way that cuts off words you were saying or anything like that. It should flow and be clear.
Step 6: Send in your work
All that's left now is to send your work and get paid. With some online marketplaces, you'll just upload an MP3 right on their site. But if that's not working, then you can always upload to Dropbox and share the link in a message to the client.
The client might ask for some changes which means repeating the recording step. That's why it's important to do multiple takes the first time. You want to avoid re-recording yourself over and over.
If they're happy, they'll pay you and give you a review. Pay attention to what they say in the review so you can see where you can improve.
Step 7: Liked it? Get an agent
After you've done some gigs, if you decide that this is something you want to keep doing, it could make sense to get an agent. An agent is going to help you get some bigger roles like voiceover for big-name cartoons.
The great thing about working with an agent is that you probably won't have to record or edit your work anymore. You and your parents can take a break from all that and just "show up". For most kids, that's the end goal. So just remember that the first part of doing this from home is just to get some experience and demos.
Good luck! I know you'll do great.